Item request has been placed!
×
Item request cannot be made.
×
Processing Request
About Richmond Reads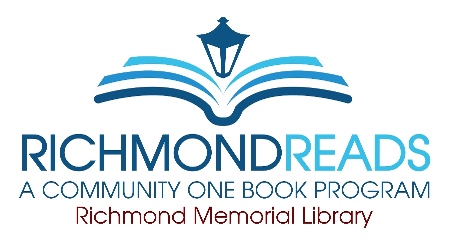 Richmond Reads is a community one-book program designed specifically for the Richmond Memorial Library community. The goal of the program is for the community to join together in reading the chosen title, and then to participate in subsequent discussions and programs.
Past Selections: 
2019 Selection: Southernmost by Silas House
2020 Selection: Nothing More Dangerous by Allen Eskens
Richmond Reads is sponsored by The Friends of Richmond Memorial Library!
Participate in the events!
Support the Program
Richmond Reads is an independent initiative of Richmond Memorial Library and sponsored by the Friends of Richmond Memorial Library.  We welcome all support of the program.  Should you wish to contribute financially, forms are available at the front desk or at the reference desk.
Questions?
Contact Samantha Stryker Basile, Adult & Community Services Librarian at sstryker@nioga.org or at 585-343-9550 x8.
Richmond Reads Committee
Sue Briggs
Sue Chiddy
Leslie DeLooze
Cynthia Hagelberger
Irene Hickey
Judy Sikora
Samantha Stryker Basile, Program Coordinator