Item request has been placed!
×
Item request cannot be made.
×
Processing Request
About Richmond Reads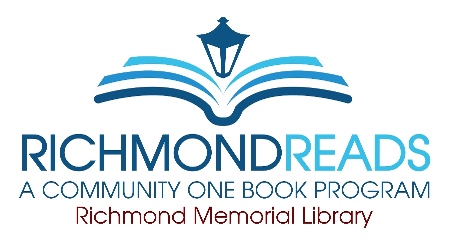 Richmond Reads is a community one-book program designed specifically for the Richmond Memorial Library community. The goal of the program is for the community to join together in reading the chosen title, and then to participate in subsequent discussions and programs.
2021 Selection: The Music of Bees by Eileen Garvin!
Recording of our 2021 Author Visit with Eileen Garvin
Click here for a special video message from the author!
Visit our YouTube page for more, including a recording of the reveal!
Thank you to all who participated in Richmond Reads 2021! 
Winning Review Contest Submissions: 
Jessica Beal: "Eileen Garvin's novel, The Music of Bees, intertwines facts regarding the science of bees along with a poignant journey of three unique individuals who unite together for a common cause: caring for and defending the fragile bee population. The general theme of loneliness, which we can all relate to at times throughout our lives, is illustrated in varying ways through three main characters: Alice, a grieving widow who finds solace through beekeeping, Jake, a teenager experiencing the shock of a devastating injury, and Harry, a young man who associated with the "wrong crowd" and paid a heavy price for his choice. Although there are different reasons for their loneliness, Garvin illustrates through her characters how a common goal can inspire greatness, courage, and acceptance despite our personal challenges. Garvin expertly demonstrates through her novel that even when life looks bleak that one flicker of hope can change the tide of darkness to happiness and friendship. Add in a lovable pet dog, small town charm, and the tenacity of the characters to fight for their community's future, and you have a "bee-utiful" tale of healing after the heartbreak of living through loneliness and the message that we truly are better together."
 
Krysia Mager: "'Honeybees can flourish only when associated in large numbers, as in a colony.' Set in the fruitful hills of Oregon, Eileen Garvin's novel The Music of Bees painted a beautiful picture of the importance of the human connection. The main characters grow in unexpected ways and learn how to live again from each other. Their personal journeys, while vastly different, converge on the Holtzman apiary where they join together for a common goal; to ensure the survival of the bees, the survival of the valley, and the survival of each other. Coming off of a COVID year, the impact of this book resonates. One person is not an island; humans were meant to be together and to help each other. The juxtaposition of humans and the colonies of bees throughout the book emphasized a life of connectedness and determination, which we saw in the three main characters. As heartbreaking and tough as life and situations can be, we make it through, together.. In the end, the truth becomes evident that we, as humans, need others in our lives and much like the bees, we flourish when supporting one another and make the sweetest honey."
Past Selections: 
2019 Selection: Southernmost by Silas House
2020 Selection: Nothing More Dangerous by Allen Eskens
Richmond Reads is sponsored by The Friends of Richmond Memorial Library!
About the Title
"The Music of Bees follows three lonely strangers in a rural Oregon town, each working through grief and life's curveballs, who are brought together by happenstance on a local honeybee farm where they find surprising friendship, healing–and maybe even a second chance–just when they least expect it. Beautifully moving, warm, and uplifting, The Music of Bees is about the power of friendship, compassion in the face of loss, and finding the courage to start over (at any age)  when things don't turn out the way you expect." (publisher summary)
About the Author
Born and raised in the Pacific Northwest, Eileen lives in Hood River, Oregon, which is located on the south bank of the Columbia River near Mount Hood. She has been a freelance writer for more than fifteen years, writing about travel, outdoor recreation and small business for various online and print media outlets. Her work has appeared with PsychologyToday.com, The Oregonian, Travel Oregon, and Creative Non-Fiction Magazine. 
A few years ago, Eileen purchased a package of Carniolan honeybees and entered the world of backyard beekeeping. She is currently enrolled in the Master Beekeeper Apprentice Program with the Oregon State University Extension Service. Her interest in these fascinating pollinators led to her first attempt at fiction.  Eileen and her husband share their home with a fearless calico cat, a passionate Baja mutt and sixty thousand honeybees, give or take.  
The Music of Bees is Eileen's debut novel. She has a previously published memoir, How to be a Sister, which  captures the experience and impact of growing up with her sister, Margaret, who has autism. (adapted from eileengarvin.com) Photo by Kate Schwager
Read the Book
Check out the book at the library or online! Available in regular print and as an eBook or Audiobook on OverDrive. 

The Music of Bees is available for sale at the library for $15, cash or check made out to the Friends of Richmond Memorial Library.
Participate in the events!
Support the Program
Richmond Reads is an independent initiative of Richmond Memorial Library and sponsored by the Friends of Richmond Memorial Library.  We welcome all support of the program.  Should you wish to contribute financially, forms are available at the front desk or at the reference desk.
Attend the Author Visit
Eileen Garvin will join us for a virtual visit on Thursday, October 21 at 7 pm! 
Questions?
Contact Samantha Stryker Basile, Adult & Community Services Librarian at sstryker@nioga.org or at 585-343-9550 x8.
Richmond Reads Committee
Sue Briggs
Sue Chiddy
Leslie DeLooze
Cynthia Hagelberger
Irene Hickey
Judy Sikora
Samantha Stryker Basile, Program Coordinator